I'm working late tonight (with a yummy bottle of Vinum Petit Sirah from Clarksburg, I might add) and I love walking around the shop in the dark, admiring the beauty of all these wonderful food boxes, wine labels and sparkly gift baskets....there is something about a 'well stocked larder' that is satisfying and comfortable.
I particularly like walking by a full caramel section, and by full section I mean FULL! We make all our lovely and sumptuous caramels by hand right here in the shop, with no preservatives, additives or funny stuff, which means they can be 'delicate' if the environment is not right. So far this season we've not had ONE day where all flavors have been in stock at the same time...it may sound geeky to be this happy about so many candy bags on the shelf, but to a foodie like me its a wonderful feeling to see them all lined up and ready to be enjoyed!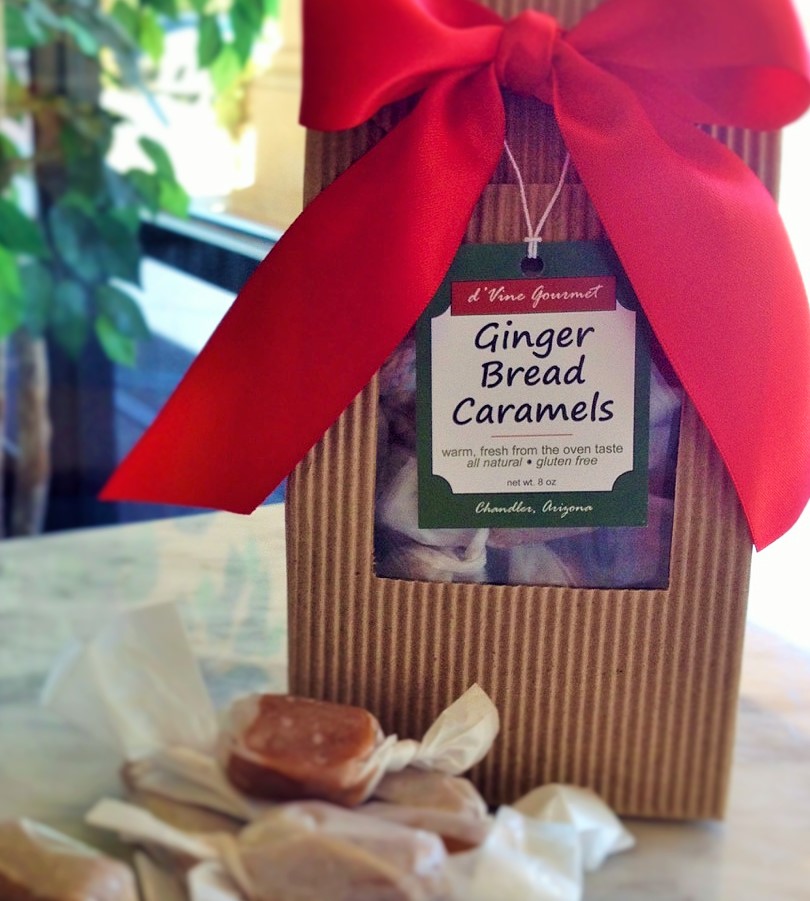 To be fair, our caramels are so gosh-darn tasty that they frequently sell out the day we make them, but with El Nino here this winter, our caramel cooking days have been limited, leaving many loyal caramelophiles to woefully wait while the weather dries out; not a phrase you often hear in the Valley of the Sun right? And here's why: because we use no fillers in our candies, and because we make them in large scale batches with a viable shelf life, we have to cook them absolutely perfectly each and every time or they just won't be quite right...too soft, too chewy, to melty...all this can happen to a natural sugar confection with just the tiniest amount of humidity in the air. Now, I know we all have grandmothers back in the day that made caramels, fudge and even divinity in any weather or condition, but since we're putting our name and a price tag on each and every decadent morsel we create, we insist on perfection with every batch, every time we make them. That means possibly no caramels during the monsoon season, or during this crazy winter rain we've been having...but trust me, if you are willing to be patient, they are definitely worth the wait; we're cooking like crazy while the sky is clear. My grandma used to say that perfect candy making requires perfect weather, and we almost have that here in Chandler!